SWITCH YOUR PET TO THE
Biologically
Appropriate
Raw Food Diet
®
Feed your dogs and cats the way Mother Nature intended and grind the diet of their dreams.
WHAT IS THE B.A.R.F. DIET®?
B.A.R.F.® stands for, Biologically Appropriate Raw Food or Bones and Raw Food. This diet is based on feeding dogs and cats properly and returning them to their evolutionary diet. A Biologically Appropriate diet for a dog and cat consists of raw whole foods similar to those eaten by their wild ancestors.
The food contains such things as muscle meat, bone (which provide the healthy fat and bone marrow), organ meats, vegetable and fruit materials combined in precisely the correct balance, just as Mother Nature intended. The B.A.R.F.® diet is all-natural gluten and grain free diet. We have everything you need to make it easy and safe to feed your pet a home-prepared raw food diet.
Best pet food grinder on the market
We have what you need to get started making your pet a home-prepared diet. Our revolutionary Big Bite Grinders provide the speed and performance to deliver a premium grind in half the time.
Our Meat grinders reduce the raw meaty chicken bones to a pulpy, gritty consistency. Grinding the bones enables you to provide all of the benefits of consuming nutrient-rich food. Grinding the raw soft bones cannot break or crack a tooth, or block or perforate a dog's intestines but will assist with cleaning teeth.
---
The Perfect Pet Food Grinders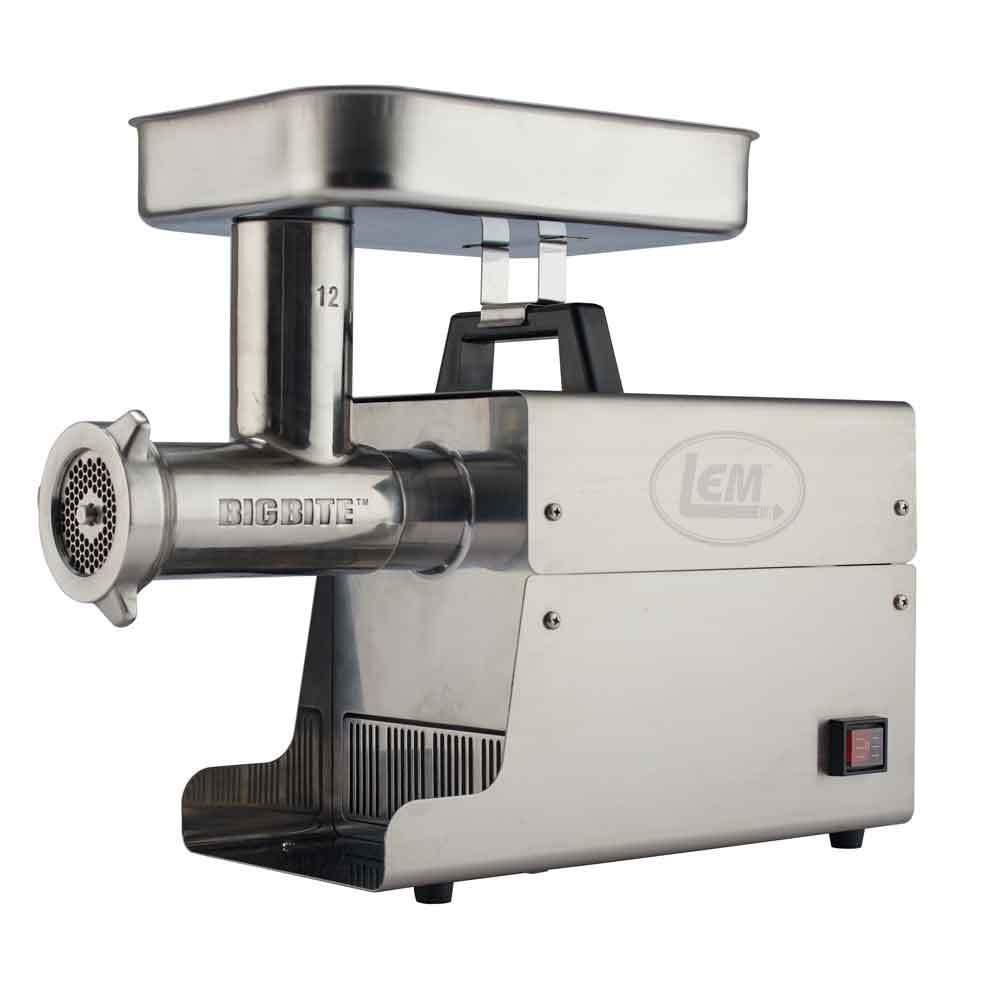 #12 BIG BITE GRINDER
.75 HP motor grinds 11 lbs per minute
View #12 Grinder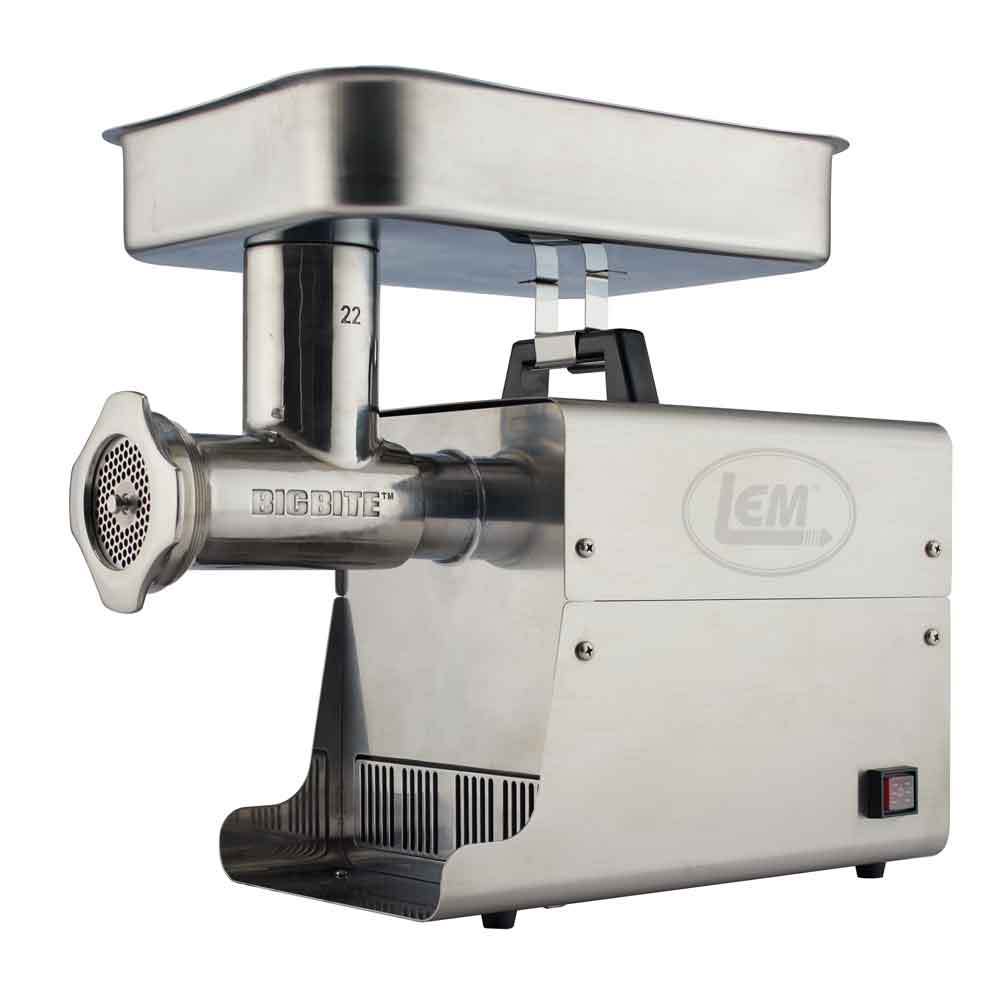 #22 BIG BITE GRINDER
1 HP motor grinds 13 lbs per minute
View #22 Grinder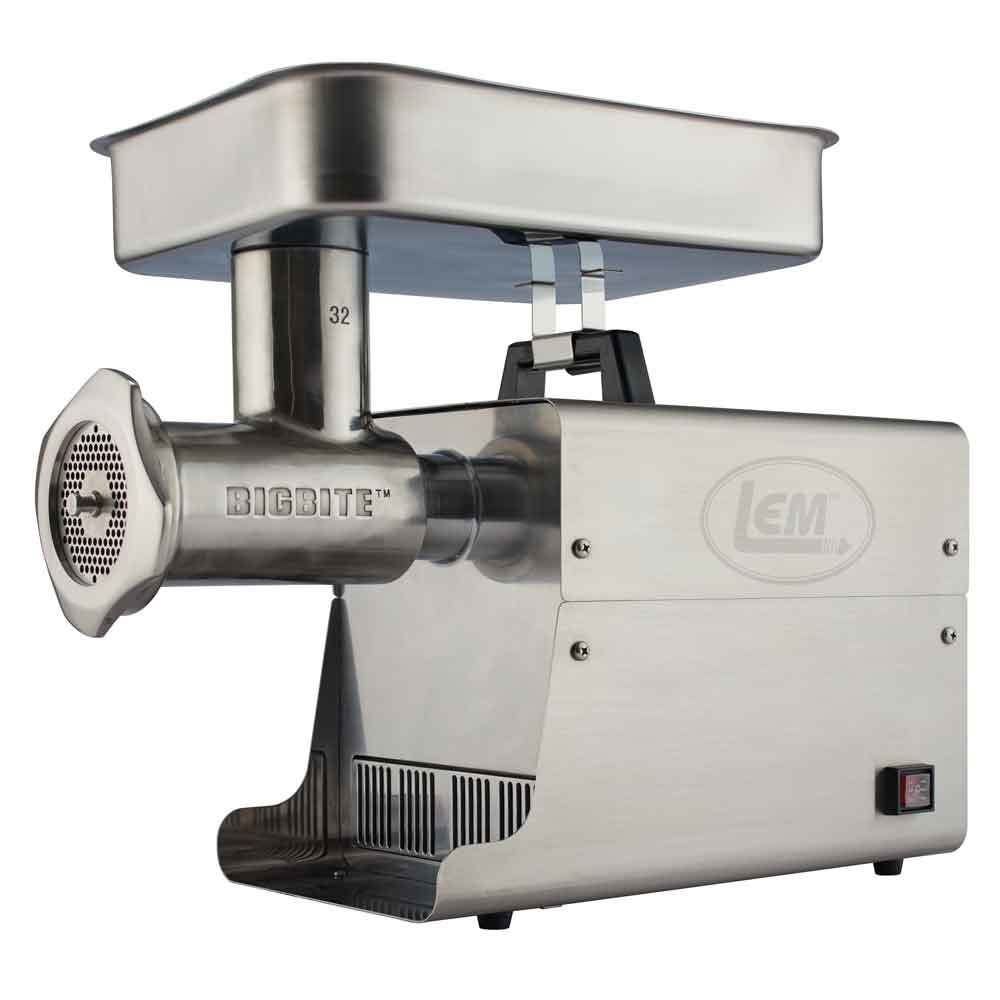 #32 BIG BITE GRINDER
1.5 HP motor grinds 17 lbs per minute
View #32 Grinder
WHY CHOOSE A PET FOOD GRINDER?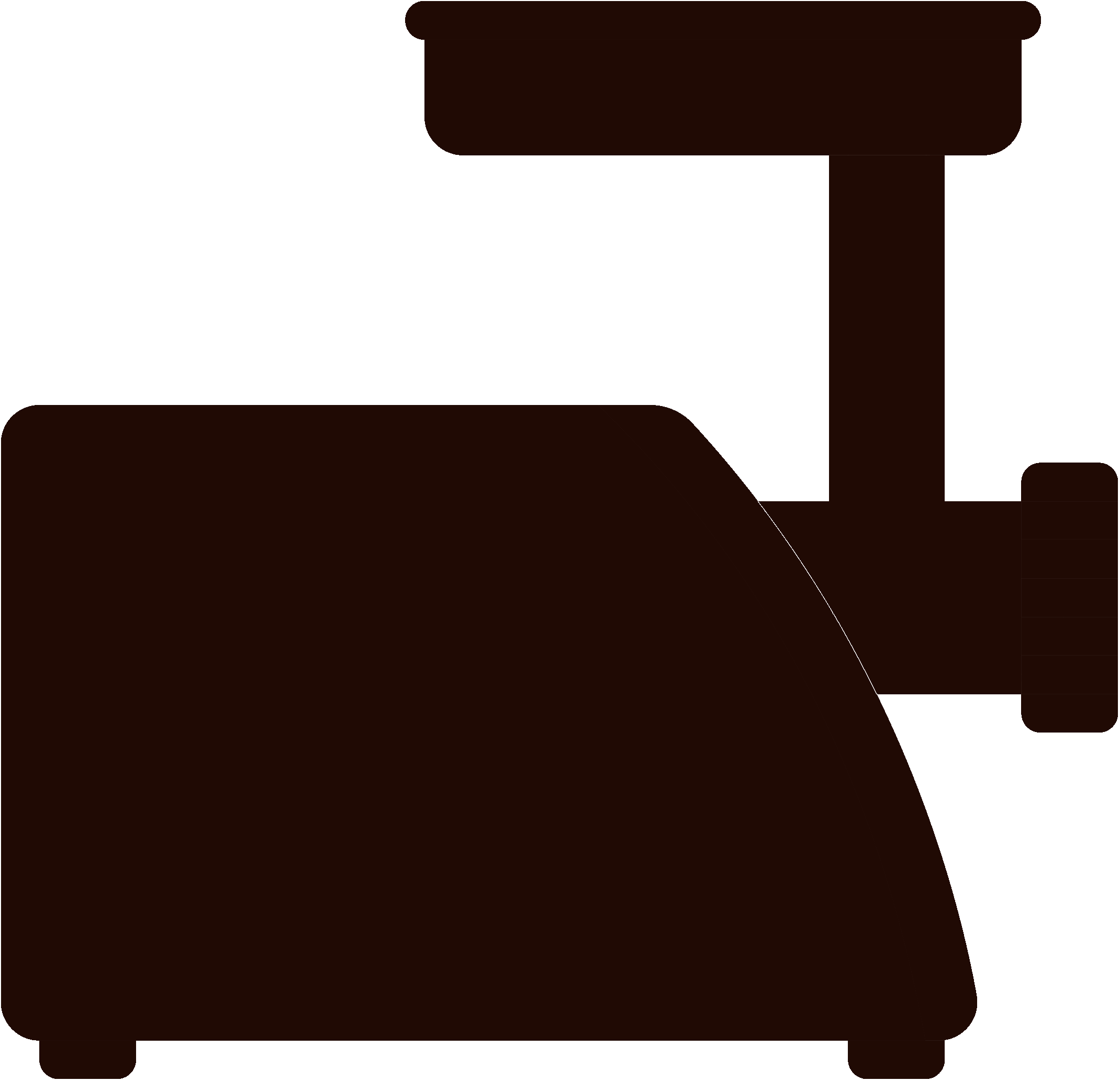 Power and Capacity
Majority of food processors and blenders do not have the power or capacity to grind bones. LEM #12, #22, and #32 Big Bite Grinders will handle whatever you throw in it including fibrous game like deer, poultry bones like chicken thighs, and even a whole chicken leg.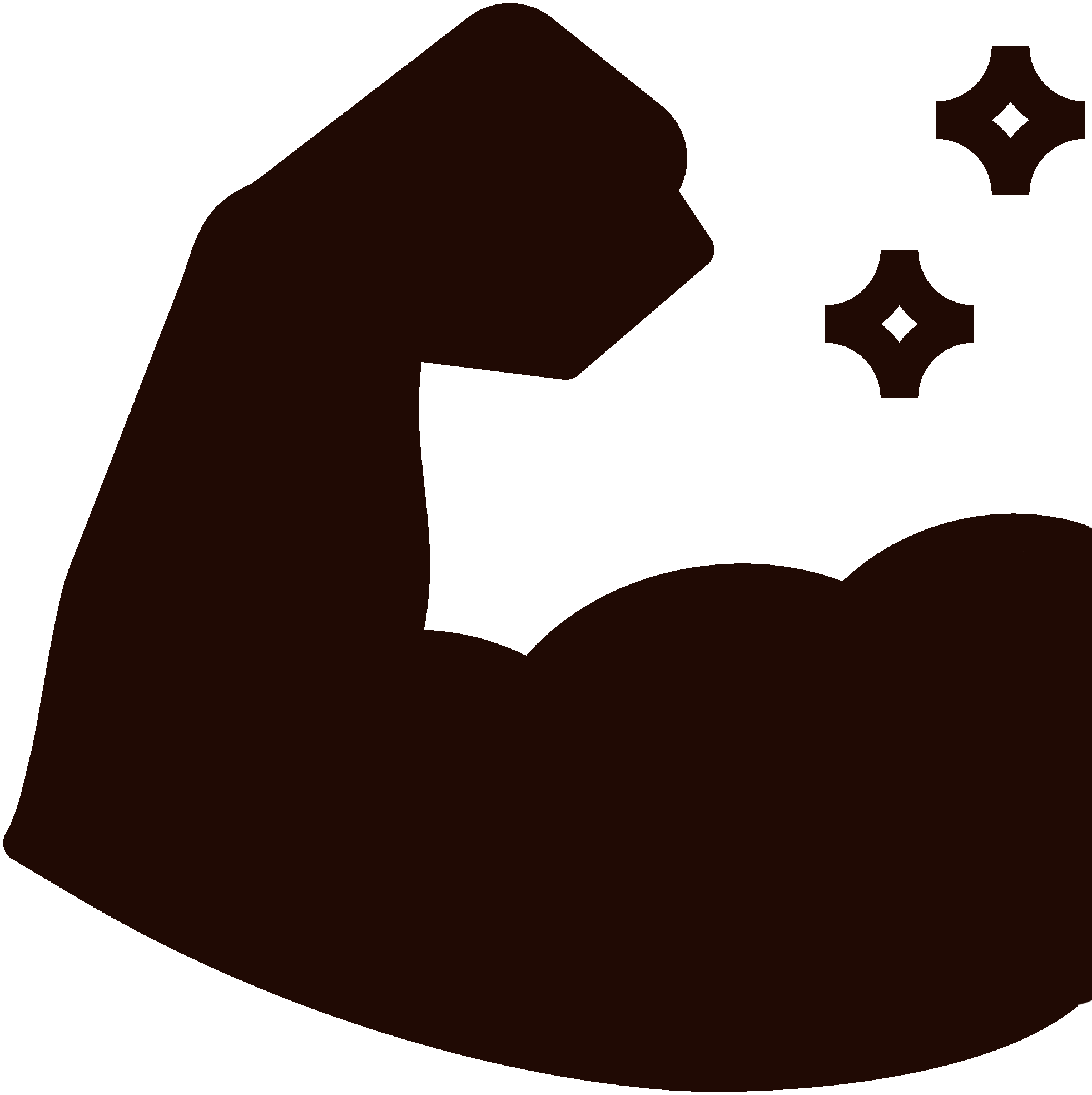 Durability
LEM grinders are built to last. They are high quality with heavy-duty stainless steel motor housing and all metal gears with roller bearings for quieter gears and upgraded performance. The 110 volt, permanently lubricated motor reduces motor noise.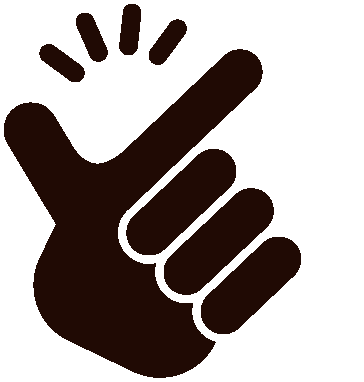 Easy to Use
LEM grinders are easy to use. Simply fill up the feeding pan with your meat, push the meat into the opening and let the grinder do the rest. Our exclusive auger design delivers a premium grind in half the time.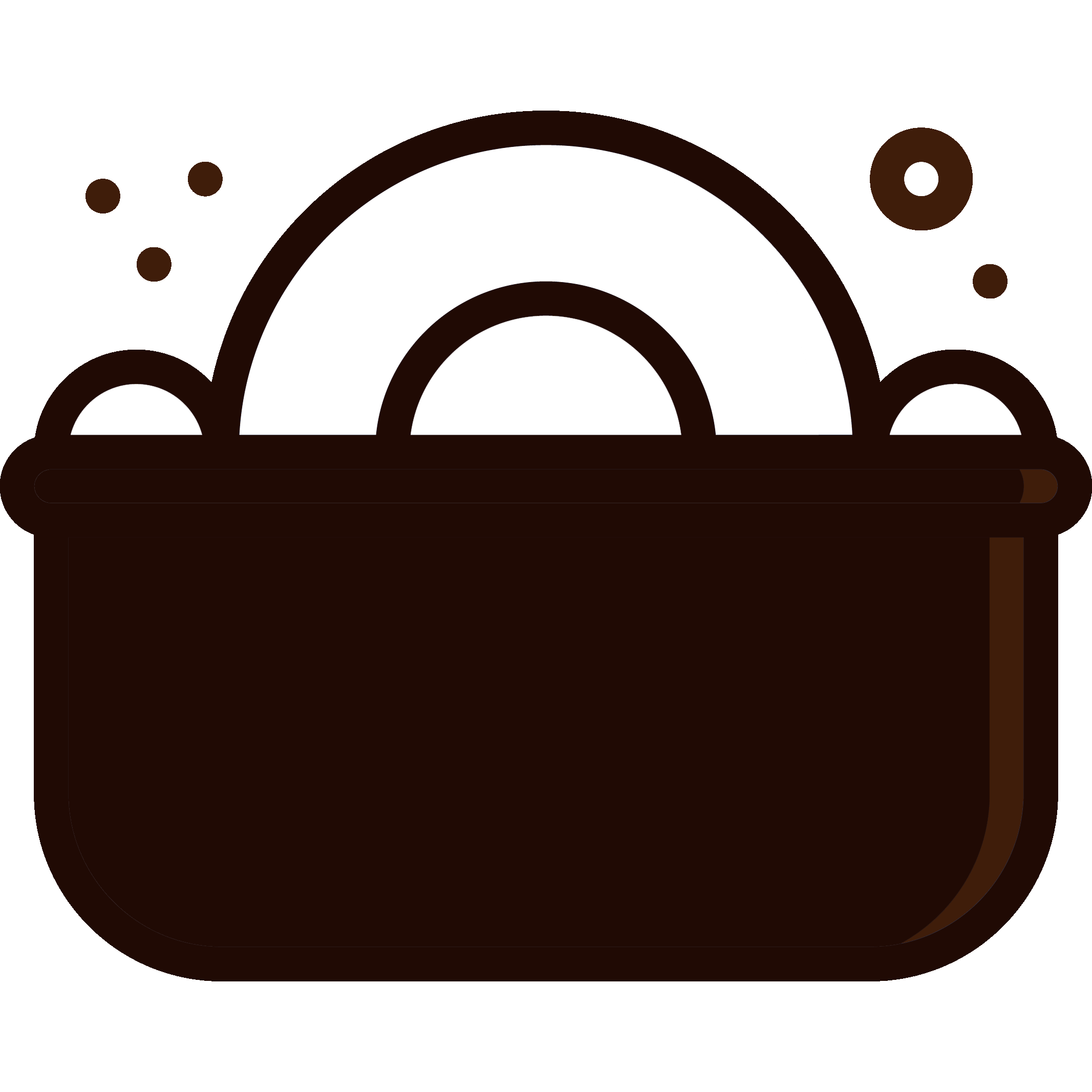 Easy to Clean
Stainless steel housing, blades, and auger make cleaning easy. Just soak them in warm water and soap for 10 minutes and the meat will slide right off. Or try running chipped ice or stale bread through the grinder to easily clean the meat out.

Warranty
LEM provides a Five Year Warranty and lifetime customer service and support for all its Big Bite Grinders. Our warranty covers defective materials or workmanship for all Big Bite Grinders. Only warranty for our #12, 22, and 32 Big Bite Grinders include grinding chicken bones.
---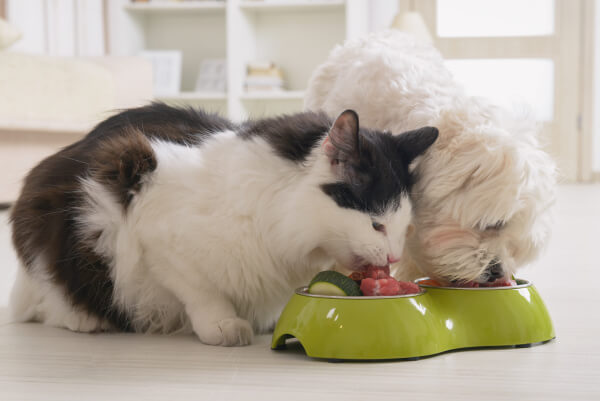 BENFITS OF THE B.A.R.F. DIET®
Here are some of the benefits you'll see in your pet with the B.A.R.F. Diet®:
Shinier coat
Healthier skin
Cleaner teeth
Fresher Breath
Allergy Relief
Higher energy levels
Improved digestion
Smaller, firmer stools
Better weight management
It is important to note there are risks with feeding your pet a raw food diet. Raw meat can contain harmful bacteria including E. Coli and Salmonella. Always talk with your veterinarian before switching to a raw food diet.
OUR BEST B.A.R.F.® RECIPE

HOW TO MAKE THE B.A.R.F.® DIET
A complete B.A.R.F. diet for dogs consists of 70% muscle meat, 10% raw edible bone, 5% liver, 5% other secreting organ, and 10% vegetable.
Muscle Meat provides Protein (70%)
Muscle meat is the foundation of the B.A.R.F. diet. This is the protein-rich component of your dog's diet and he needs proteins to build strong tissues, as well as the hormones and enzymes he needs to thrive. Good choices for muscle meat include beef, heart, bison, turkey, and lamb. Wild game is safe to feed (venison, duck, rabbit, elk, and moose). Do not feed raccoon, wild boar, fox, and bear. All wild game should be frozen for a minimum of 3 weeks to ensure any parasites are killed before feeding.
Raw Edible Bones provide Calcium (10%)
Bones are essential in raw diets to provide the necessary calcium and other nutrients, which plays a vital role in creating firm stool. Here are some good choices for meaty bones: chicken wings, necks, legs, thighs, turkey necks, beef tail bones, lamb or goat necks. You can also feed your dog whole animals such as whole fish, whole rabbit, and whole poultry and these contain just the right amount of bone.
Organs Are The Multi-Vitamins (10%)
Organs are the nutrient-rich parts of the animal. You will want to feed a minimum of 10% organ meats. Organs include: liver, kidney, spleen, pancreas, thymus, brain, lung, and testicles.
Vegetables Provide Essential Nutrients (10%)
Select vegetables high in nutrients and low in carbohydrates. Leafy greens are the recommended vegetables to add to a raw diet. Puree, ferment, steam, or boil vegetables for optimal digestion and nutrient absorption. Raw vegetables do not digest well and are passed as waste. Good choices include: kale, sprouts, spinach, or broccoli.
---
WHAT YOU WILL NEED
2 ½ lbs raw beef
4 oz chicken livers
2 whole eggs
1 large chopped carrot
½ cup baby spinach
1 cored apple
½ cup plain yogurt
1 tablespoon flax seeds
1 tablespoon olive oil
THE PROCESS
Grind raw beef, bones, carrot, baby spinach, and apple (make sure it's cored because apple seeds are toxic to dogs)
Add chicken livers, yogurt, flax seeds, both eggs with shells (shells are good source of calcium), and olive oil in seperate mixing bowl
Add ground mixture to mixing bowl and combine thoroughly
Raw dog food is complete
Keep one bag of foodin the fridge and freeze the rest
Clean the surface with antibacterial cleaner
Follow cleaning instructions to clean your grinder
Shop Our Dog and Cat Food Grinders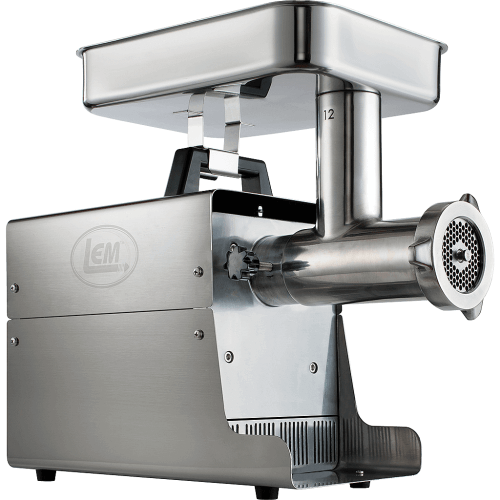 #12 BIG BITE GRINDER
Makes short work of your grind time!
Shop #12 Grinder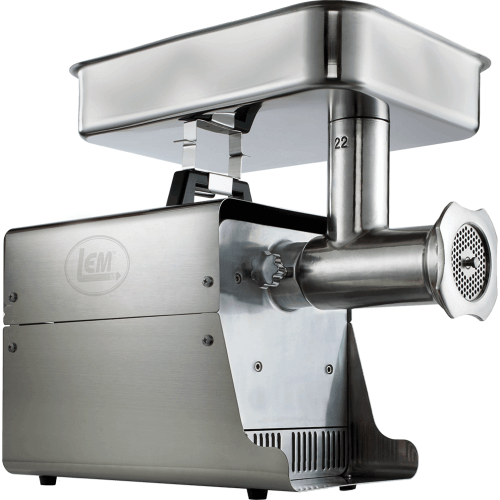 #22 BIG BITE GRINDER
Runs through meat like a hot knife through butter!
Shop #22 Grinder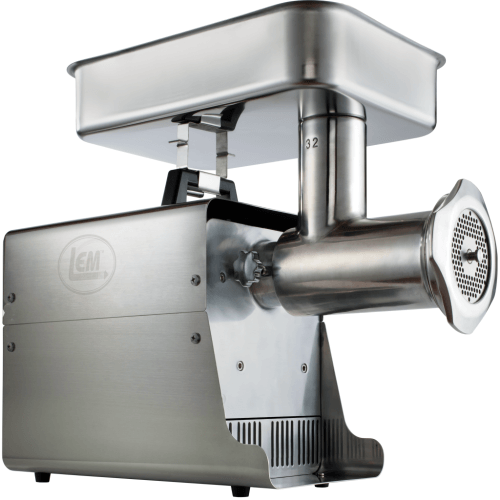 #32 BIG BITE GRINDER
The fastest, most powerful of the Big Bite Grinders!
Shop #32 Grinder