Lemon Ginger Beef Kabobs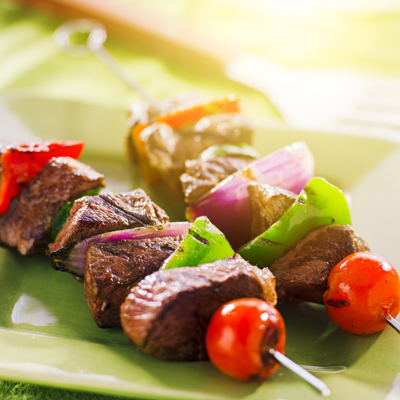 Ingredients:
1 lb Beef tenderloin tips
3 tablespoon Lemon Ginger Seasoning & Rub
2 tablespoon Olive oil
1 tablespoon rice wine vinegar
1 onion cut into 1-inch squares
1 bell pepper cut into 1-inch squares
8-10 button mushrooms.
Directions:
Marinate beef with spice, olive oil and vinegar for 4 hours or overnight in refrigerator.

After beef has marinated, skewer beef on skewers (soak if wooden skewer) alternating with veggies.

Grill over medium heat, rotating kabobs every few minutes. Cook kabobs until meat is at desired temperature and veggies are tender.

Serve with wild and brown rice or your favorite mashed potatoes.

Best when combined with olive oil and rubbed into meat.